Open Social

Peer Group has been very popular with persons living with a brain injury, and has been running now for over twenty years. The group meets each week for two hours, with a short break in the middle to stretch, grab a coffee, and/or have a smoke. Peer Group gives brain injury survivors the chance to meet informally, and sportively, with other survivors who "get" what they are going through. The discussion is open, honest, and can be on any topic at all. For some survivors, this is their only chance to be part of a group and not feel out of place. Over the last two decades, there have been many rewarding connections, and long lasting friendships that developed and continue because of this group.
Cribbage
This is a small group run by 2 of our volunteers. They meet once a week on Mondays from about 12:30 – 2:30. It typically involves a few games of crib, steaming cups of coffee and lots of laughter and humorous good natured bantering.
Family Group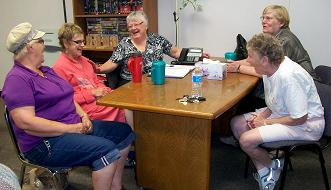 Family group provides a supportive environment for family members to focus on mutual sharing, support and learning. It meets weekly for 1 ½ hours, and a wide variety of brain injury related topics are covered, including the critical need for self-care. The daytime family group is currently 'on hold' while regrouping. There is also a very popular relationship group, which takes place in the evenings. Please check our calendar for times and dates.